Serves: Serves 2 or 4, depending on greed - Time: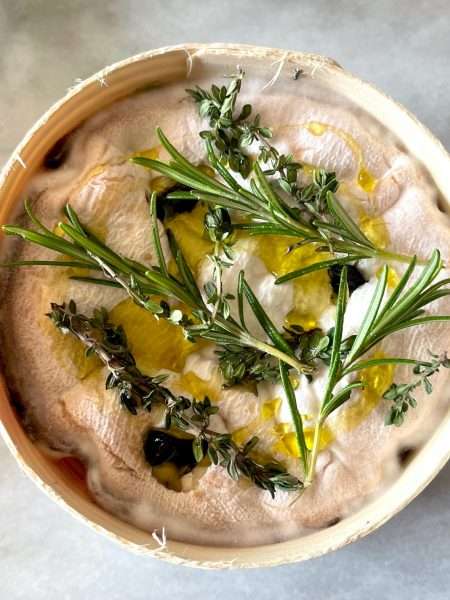 The prospect of winter always fills me with gloom but one thing to recommend it is the very welcome return of  vacherin cheese to the shelves. From October to March you can buy this exquisite cheese which livens up any cheeseboard. In fact, it is impressive enough to serve on its own – with a good sturdy biscuit alongside or go French and serve with bread. For an instant informal light lunch or supper you can stick the cheese in the oven and serve with lots of good things to dip in. I've added herbs and some black and confit garlic to up the ante.
Ingredients
1 garlic bulb
About 300ml extra-virgin olive oil
1 vacherin cheese, plastic wrapping removed
3 black garlic cloves, peeled
1 sprig rosemary
1 large sprig thyme
To serve Boiled new potatoes, chicory or radiccio, blanched asparagus, cherry tomatoes, button mushrooms, parma ham
Method
1 Separate the garlic cloves and peel. Put them in a small saucepan and pour over enough olive oil to cover the cloves. Start to cook over the lowest heat possible so the garlic doesn't burn before softening. It should take about 20 minutes for the garlic to soften and turn golden brown. Leave to cool.
Heat the oven to fan 160°c, mark 4. Make three incisions into the cheese and stuff with the black garlic cloves. Arrange the herbs on top and drizzle over a tablespoon of the confit garlic olive oil. Put the lid on the cheese and wrap tightly in aluminium foil. Bake in the oven for about 25 minutes (check after 20 mins) until the cheese is runny and soft in the centre.
Unwrap the cheese, remove the lid and spoon over about 6-8 confit garlic cloves. Serve straight away with  the vegetables or just with crusty bread if you prefer.