Serves: 4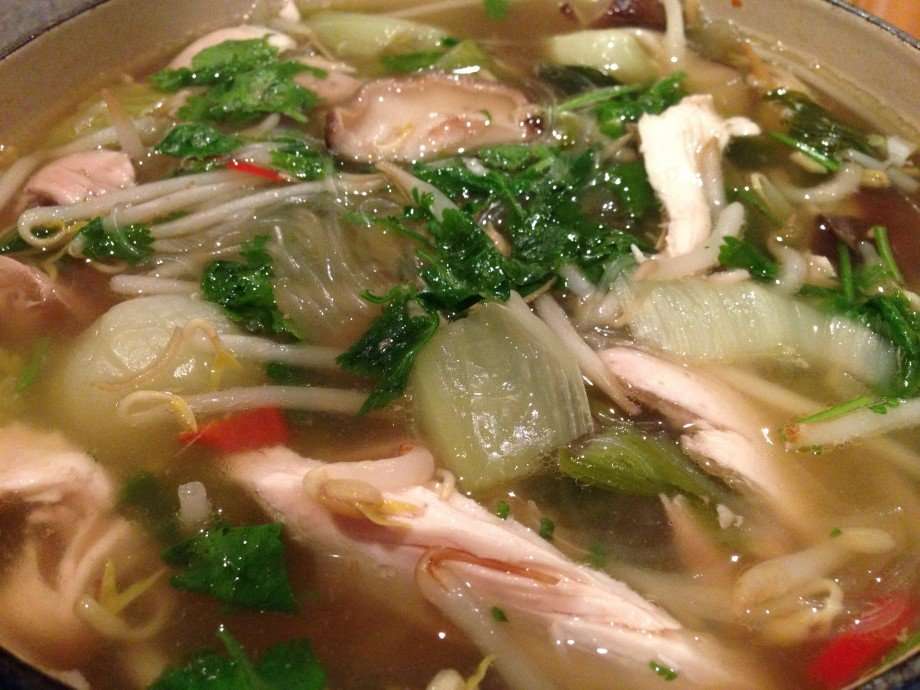 I cook the chicken the day before eating but it could all be done on the same day if you started in good time. You would just need to skim any fat off the surface while it is cooking. This soup can be simplified for a speedier supper-cut up some fresh chicken breasts and simmer them in shop-bought chicken stock, throwing in the vegetables and noodles and seasoning. However like all things in life the more effort you put in the greater the rewards. You don't have to use all the chicken into the soup- I will often reserve the cooked breasts for a different dish and just chop up the leg meat for the soup.
Ingredients
For cooking the chicken
1 chicken
1 onion, peeled and halved
2 sticks celery, halved
2 star anise
4cm piece root ginger, sliced
2 garlic cloves, peeled
1 teaspoon black peppercorns
2 sticks lemongrass, bruised with the back of a knife
To finish the soup
250g shitake mushrooms, stalks removed
1 bunch spring onions, topped and tailed and roughly chopped
300g pak choy, washed and roughly chopped
1 red chilli, deseeded and finely chopped
3 tablespoons Thai fish sauce
370g beansprouts
100g rice noodles
1 small bunch coriander, roughly chopped
Method
 Place all the ingredients for cooking the chicken into a very large saucepan or stock pot. Cover the chicken with cold water and bring to the boil. Turn the heat down, cover with a lid and simmer for 1 ¼ hours. Take off the heat and leave to cool completely. Refrigerate overnight.
The next day skim off any solidified fat and lift out the chicken. Cut up as much meat as you would like to add to the soup and set aside. Pour the stock through a sieve and discard all the vegetables and peppercorns. Pour the stock back into the saucepan (you should have about 1.8 litres).
Add the mushrooms, spring onions, pak choy, chilli and fish sauce and bring to the boil. Turn the heat down and simmer for 10 minutes. About 5 minutes before you want to serve the soup add the beansprouts, rice noodles and chicken and simmer for 5 minutes. Taste and season again if necessary. Stir in the coriander and serve immediately.