Serves: 4 - Time: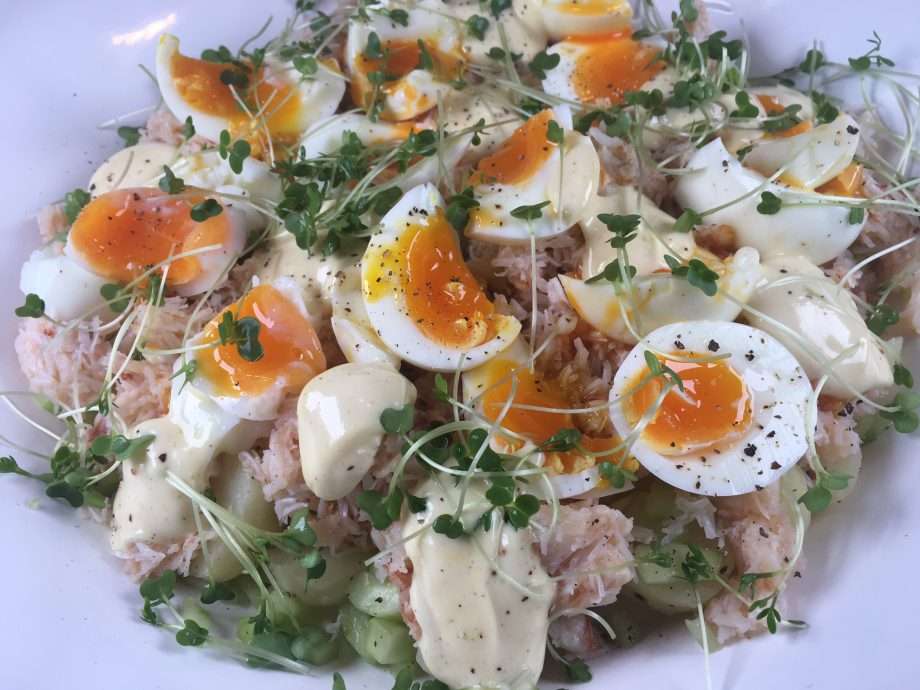 I am pretty happy to eat eggs in any guise but I think a soft, hard-boiled egg is my number one choice. These are boiled for six minutes which gives you a firmish white and a thick, creamy yolk. Just make sure the eggs are at room temperature before boiling them. Dressed crab is often served with an egg (hard-boiled) garnish which got me thinking that a softer egg combo would be even more delicious. You can prepare all the component parts of the salad in advance-and you'll need  two hours for the pickled cucumber-but I wouldn't put it all together until you're ready to eat.
Ingredients
3 tablespoons caster sugar
6 tablespoons apple cider vinegar
1 cucumber, peeled
Maldon salt
350g baby new potatoes, scrubbed
4 eggs at room temperature
5 tablespoons mayonnaise (preferably homemade)
½ tablespoon Dijon mustard
400g white crabmeat
1 punnet mustard cress
Method
Dissolve the caster sugar in the vinegar. Halve the cucumber lengthways and scoop out the seeds. Cut the cucumber flesh into long strips then dice. Put the dice in a sieve and sprinkle with a pinch or two of Maldon salt. Leave to drain for 30 minutes. Rinse under cold water then pat the cucumber dry. Stir into the sugar/vinegar liquid and leave to pickle for 2 hours.
Put the potatoes in saucepan of salted water and bring to the boil. Cook for about 12-15 minutes until tender. Drain the potatoes and, when they are cool enough to handle, peel off the skins. Slice the potatoes and arrange on a large serving plate.
Bring a pan of water to the boil. Carefully lower the eggs into the water and put the timer on for 6 minutes.  When the six minutes is up, drain the eggs and run them under cold water until they are cold. Carefully peel off the shells.
Mix the mayonnaise with the Dijon mustard. Drain the cucumber and scatter the dice over the potatoes. Spoon the crabmeat over and roughly chop the egg over the crab. Don't chop them on a board-you want the egg yolk to run over the crab. Dollop the mayonnaise over the salad and scatter over the mustard cress.