Serves: 10-12 slices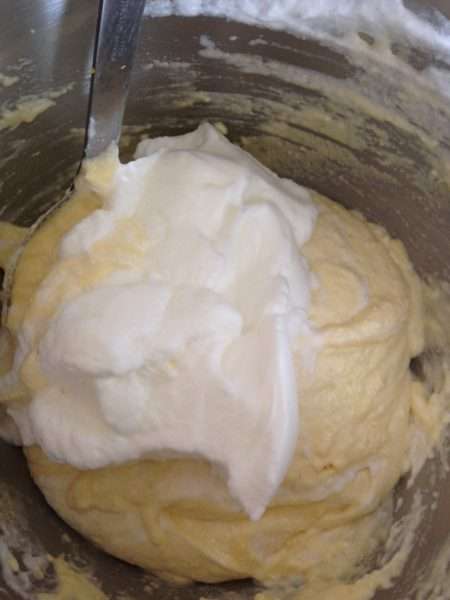 As the madeleine was for Proust so the griestorte is for me, a remembrance of things past. One taste and I am transported back to my childhood. This is my Aunt Bea's recipe which I found tucked into a children's cookbook belonging to my sister. Growing up it was one of our favourite cakes and one we used to cook often although, in the days before my mother invested in an electric whisk, it was a labour of love to beat the eggs. We sandwiched the cake layers with lemon curd or jam and whipped cream-if we could be bothered to do more beating. I have filled this version with my current passion, rose petal jam which I buy from the website souschef.com. It is a fatless, flourless sponge with a hint of bite from the semolina and is best eaten fresh. One of those cakes where, to do it justice, you will want to dust off the afternoon tea service and set of cake forks.
Ingredients
Butter for greasing
6 medium eggs, separated
225g caster sugar
115g fine semolina
60g ground almonds
Grated rind and juice of 1 lemon
6 tablespoons rose petal jam (or a favourite jam or lemon curd)
200ml double cream, lightly whipped
125g fresh raspberries
Icing sugar for dusting
Method
Heat the oven to 190˚c, fan oven 170˚c, mark 5. Grease and base-line two, 20cm cake tins with non-stick baking parchment. Place the egg yolks and caster sugar in a bowl and whisk together for about 4-5 minutes until really pale and thick.
Carefully fold in the semolina, ground almonds and lemon zest and juice. In a separate bowl whisk the egg white to stiff, but not dry, peaks. Carefully fold into the batter. Divide the cake batter between the two prepared tins and smooth the surface. Bake in the oven for 20-25 minutes until golden brown and firm to the touch. Leave in the tins for 5 minutes then turn out on to wire racks and leave to cool completely.
Spread half the jam over one half. Spoon the whipped cream on top of the jam and spread out to the edges. Top with most of the raspberries, leaving a few for decorating the top of the cake. Spread the remaining jam over the second cake and quickly flip over and place on top of the bottom half. Press down lightly. Arrange the remaining raspberries on top and dust liberally with icing sugar.