Serves: 12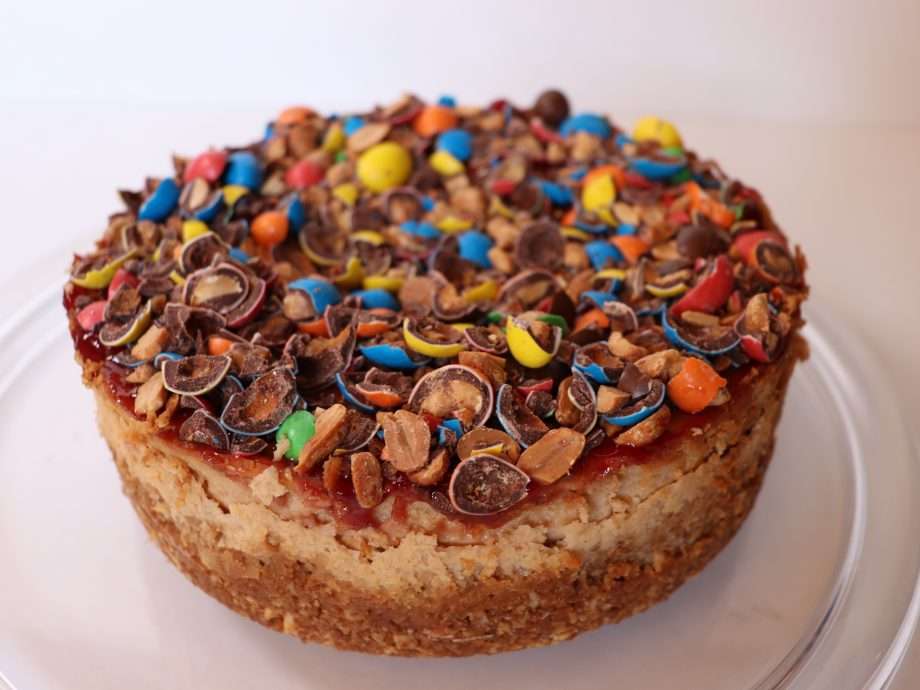 I suppose it goes without saying that you have to be a PBJ fan to enjoy this cheesecake, although I tested it on a non-believer (my father) and he was pleasantly surprised by my offering. Damned with faint praise you might think but as this is a man not given to hyperbole I took this as a compliment. You can add as much strawberry jam as you wish-have it tumbling down the sides of the cheesecake – and leave off the M & M's ( in fact I was in two minds about them but decided I liked the contrasting crunch and little morsels of chocolate) but more is more here I think.
Ingredients
For the base
75g unsalted butter
170g Hobnob biscuits
100g salted peanuts
For the cheesecake
600g full fat soft cheese, e.g. Philly
225g smooth peanut butter-not the natural kind
100g sour cream
150g caster sugar
2 teaspoons vanilla extract
4 medium eggs
1 tablespoon cornflour
For the topping
4 tablespoons strawberry jam, sieved to break down any large pieces of strawberry
150g peanut M&M's
Method
Base-line a 20cm springform cake tin with non-stick baking parchment. Melt the butter in a small saucepan. Put the biscuits and peanuts in a food processor and blend to fairly fine crumbs. Stir in the melted butter and mix well. Spoon the buttery crumbs into the prepared tin and smooth and press out to the edges and half way up the side of the tin, in an even layer. Chill for about one hour until hard.
Heat the oven to fan 150 ˚c, mark 2. Put all the ingredients for the cheesecake into a food processor and blend until smooth, scraping down the sides to make sure everything is well mixed. Carefully pour the cheesecake mixture into the tin and place on a baking tray in the centre of the oven. Bake for about 45-50 minutes until the outside feels firm but the centre still has a little wobble. Turn off the oven with the cheesecake inside and the oven door ajar. Leave for one hour then remove the cheesecake from the oven and leave at room temperature until cold. Chill overnight.
Spread the jam over the top of the cheesecake. Put the M&M's in a plastic bag and bash with a rolling pin to crush, not too finely. Sprinkle over the top of the jam. Run a sharp knife around the sides of the cheesecake to loosen it and then unclip the tin. With a large cake slice lift the cheesecake off the parchment and place on a serving plate.