Serves: 4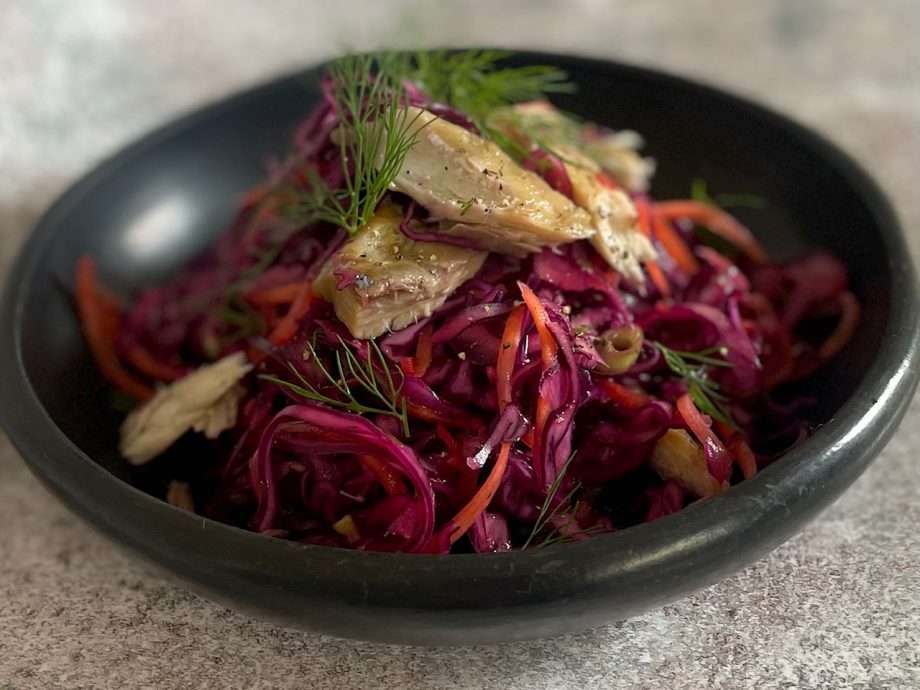 I always hesitate to recommend making something because it is full of stuff that's supposedly good for you. There is nothing more depressing in life than worthy food. Great taste will always be the goal and if it happens to be chock full of things we should include in our diets then happy days. This is a salad that scores on taste and goodness. If you have to cater for vegetarians you could swap the fish for a handful of chopped salted peanuts or even some marinated tofu.
Ingredients
450g red cabbage, about ½ a large one
Maldon salt
240g carrots, peeled and either grated or julienned
5 spring onion, trimmed and finely sliced
1 red chilli, deseeded and finely chopped
1 tablespoon finely chopped dill
Juice of 1 lime
1 ½ tablespoon olive oil
2 smoked mackerel, skinned
Method
Thinly slice the red cabbage on a mandoline or in a food processor fitted with the slicing blade. Place in a mixing bowl and add a teaspoon of Maldon salt. Massage the salt into the cabbage until it starts to release a little moisture. Add the carrots and spring onions and mix together.
Mix the chilli, dill, lime juice and olive oil and season with a little salt and ground black pepper. Spoon over the vegetables and mix well. Flake in the smoked mackerel and gently stir to combine the ingredients.