Serves: 3-4
This is my anglicised version of a classic French salad, featured on many a brasserie menu. It is the perfect salad to showcase the delicious Jersey Royal potato, although don't let that stop you making the salad out of the Jersey Royal season. As long as you choose a waxy salad potato you can't go wrong. The French would include in their salads a local smoked sausage such as the saucisse de Montbéliard or the fatter saucisse de Morteau. Having neither on hand I have suggested a standard smoked sausage (available in most supermarkets) or the good old frankfurter. I love dandelion leaves in this salad and think their bitterness cuts through the richness of the meat and cheese. However, in a version that is UK consumer-friendly I swap dandelion for chicory. If you are not a fan-most children aren't- just slice up a crunchy lettuce such as romaine.
Ingredients
For the dressing
1 tablespoon finely chopped shallot (about a ¼ of a banana shallot)
2 teaspoons Dijon mustard
1 tablespoon verjus or white wine vinegar
4 tablespoons cold-pressed rapeseed oil
For the salad
300g Jersey Royal potatoes
200g cooked smoked sausage or frankfurters
30g salad leaves, such as rocket, lambs lettuce, baby gem leaves
2 heads chicory, trimmed and sliced
75g comté cheese, cut into 1cm cubes
40g walnuts or pecans, lightly toasted and chopped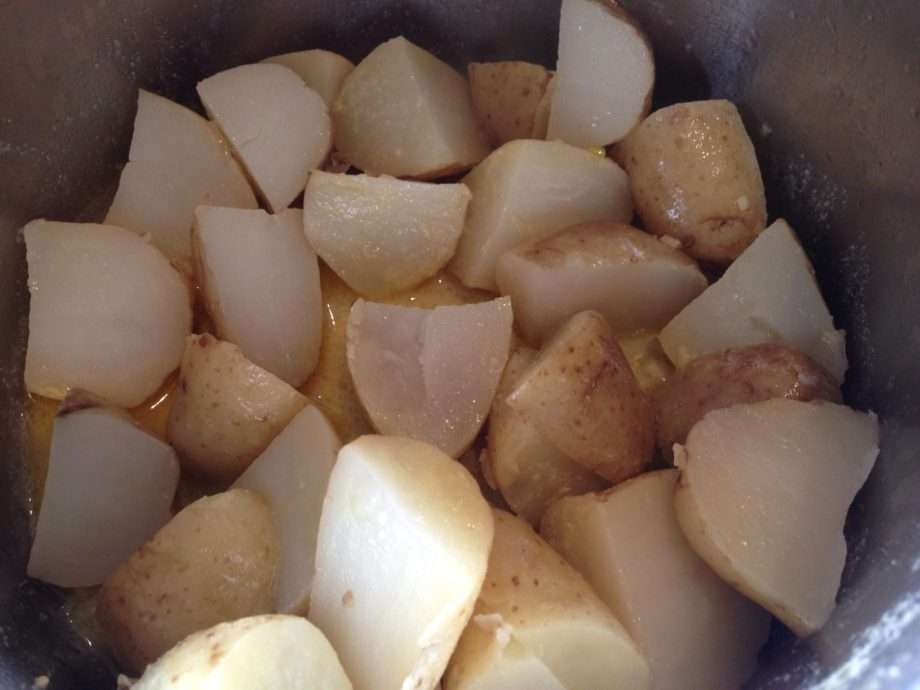 Method
Place all the dressing ingredients in a bowl and whisk until thoroughly combined.
Boil the potatoes in salted boiling water for about 15 minutes until cooked through. Drain well then return to the saucepan and pour over 2 tablespoons of the dressing. Cover with a lid and leave the potatoes to soak in the dressing until cold. Cut into 2cm pieces.
If using frankfurters cook the sausages according to the packet instructions. Leave to cool then cut the sausage into 3mm thick slices. Place the salad leaves and chicory in a wide salad bowl. Arrange the potatoes with their dressing over the salad leaves. Scatter over the sausage, cheese and finally the nuts. Drizzle over the remaining dressing and serve immediately.