Serves: 6-8 - Time:
I always make big batches of this cabbage, portion it up and freeze it. It is one of my favourite vegetable dishes and goes with so many different meats. It usually partners roast goose but try it with beef, roast pork, venison and all game birds. I always serve red cabbage at Christmas because I can make it in advance, freeze it and simply reheat on the day-one less thing to worry about.
Ingredients
30g butter, cut into cubes
1kg red cabbage, finely sliced
1 red onion, peeled and thinly sliced
2 eating apples, peeled, cored and sliced
2 garlic cloves, peeled and crushed
1 tablespoon juniper berries, crushed
¼ teaspoon ground cloves
5 tablespoons soft light brown sugar
3 tablespoons balsamic vinegar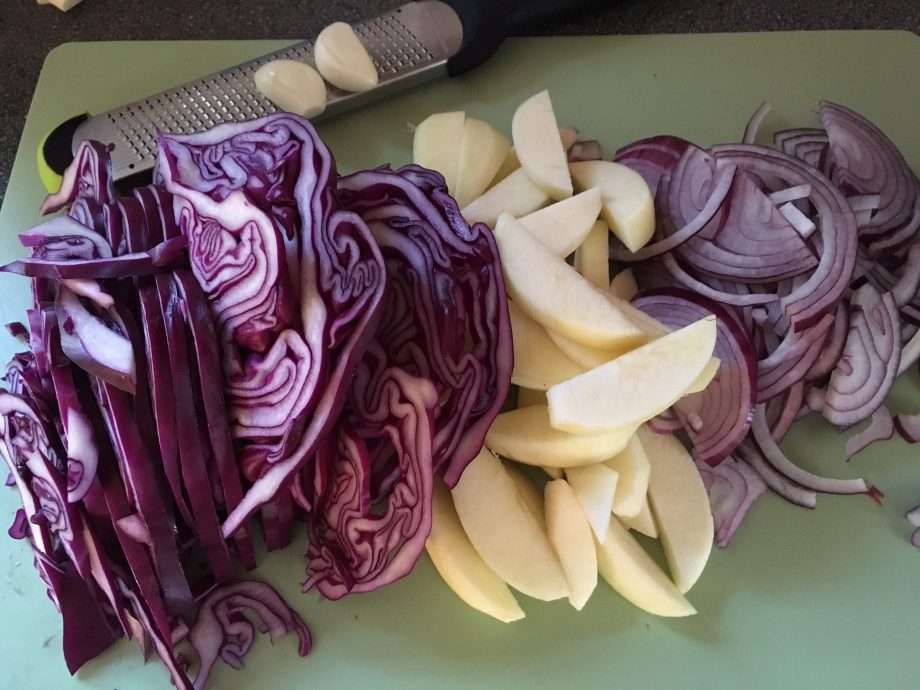 Method
Heat the oven to 170˚c, fan oven 150˚c, mark 3. Have all the ingredients prepped and ready to layer.
Put about a third of the butter in the base of an ovenproof, lidded casserole dish. Scatter over about one third of the cabbage, followed by a third of all the remaining ingredients. Season with salt and ground black pepper.
Repeat the layering twice more, seasoning between the layers. Pour over 4 tablespoons water. Cover the casserole with a lid. Cook in the oven for one hour. Stir everything really well and continue to cook for a further 1 ¼ hours, by which stage the cabbage should be soft. Taste and season again if necessary. Serve immediately or leave to cool and freeze when cold.