Serves: Makes about 1.3 litres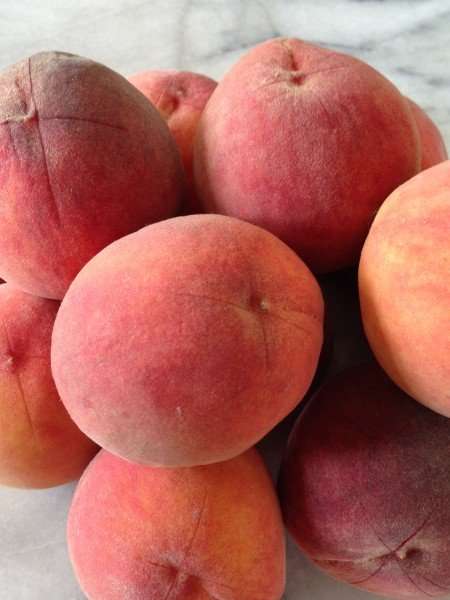 I make this at the end of the summer when the peaches (imported sadly) are at their best. Needless to say I still have to keep them on a sunny windowsill for a few days to fully ripen. As with most chutneys it is best to store them for about 4-6 weeks to allow the flavours to mellow. If you don't have a preserving pan you may need to cook the chutney for longer to reduce the liquid.
Ingredients
1.4kg ripe peaches, about 12
2 tablespoons vegetable oil
2 onions, peeled and finely chopped
2 garlic cloves, peeled and finely chopped
50g root ginger, peeled and grated
1 heaped teaspoon cardamom pods, crushed and outer husk removed
1 teaspoon ground coriander
¼ teaspoon chilli flakes
350ml cider vinegar
300g soft brown sugar
Method
Bring a large saucepan of water to the boil. With a sharp knife make a cross in the base of each peach. Carefully place the peaches in the boiling water for 30-40 seconds-do about 6 at a time. Lift out with a slotted spoon and peel off the skins. Halve the peaches, remove the stones and chop the flesh into about 1cm pieces.
Heat the oil in a preserving pan or a very large saucepan with a wide base. Add the onions and a teaspoon of Maldon salt and cook over a low heat for 10 minutes, stirring to make sure the onions don't burn. Add the garlic, ginger and spices and cook for a further 2-3 minutes. Pour in the vinegar and sugar and stir. Add the chopped peaches and bring the mixture to the boil. Turn the heat down and simmer gently for about 1 ¼ hrs. There should be virtually no excess liquid in the pan.
Spoon the chutney into sterilised jars, cover and seal. Serve with cold meats, cheese toasties and strong hard cheeses such as a Montgomery cheddar or Stilton.