Serves: 4 - Time:
Round these parts fresh squid is hard to find so I buy the frozen squid tubes from Marks and Spencer which I think are perfect for a tempura batter as they are small, not very thick and cook quickly in the hot oil. Tempura does not like to hang around for long which is a pain if you are the type of cook who likes to wash dishes and clean up before eating. Make sure to have everything ready to eat as you start to fry. You can prep the squid in advance and have the flours weighed out in a large mixing bowl. If you are not familiar with Tajin it is a delicious chilli, lime juice and sea salt seasoning from Mexico. I sprinkle the flavoured salt over the squid and serve extra on the side for dipping. The salty sourness cuts through the richness of fried food perfectly. You can buy it online on Amazon or Souschef.
Ingredients
350g ready-prepared frozen squid tubes, defrosted
100g cornflour
50g plain flour
120ml soda water
Pinch of salt
About 1 ½ litres sunflower oil
Tajin seasoning (see intro)
Lime wedges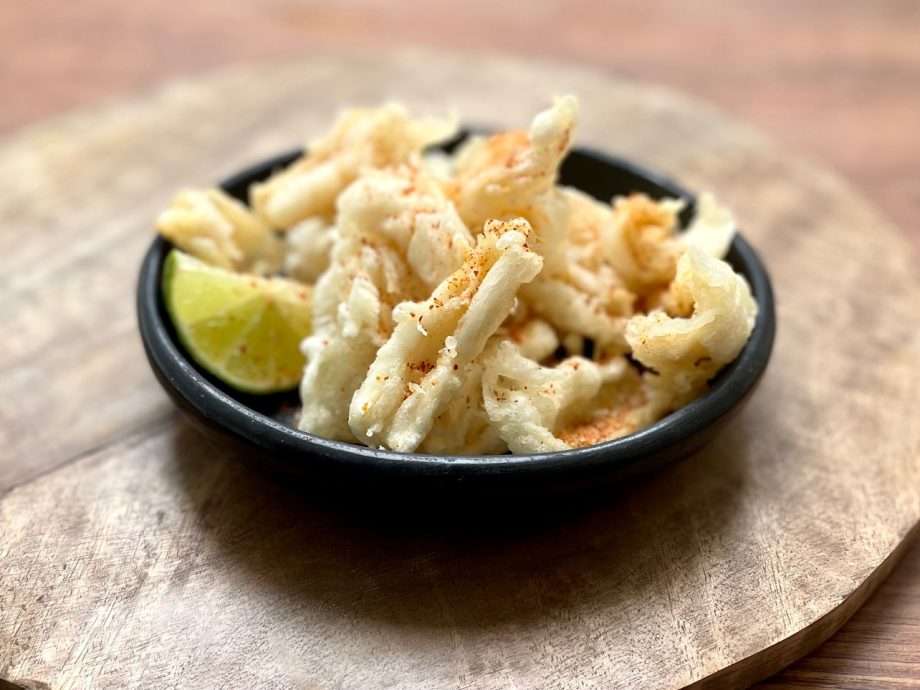 Method
Prepare the squid by cutting down one side of each tube and laying out the squid. Lightly score the inside of each tube and cut into 2cm pieces. Pay dry and set aside.
Mix the cornflour with the plain flour and a little fine sea salt. Heat the oven to about fan 120°c, and place a wire rack on top of a shallow baking tray.
Heat the oil to 170-180°c. Just before the oil reaches the correct temperature lightly stir the soda water into the flour mix. Do not overmix-it doesn't matter if there are a few pockets of flour. Dip a few pieces of squid at a time into the batter and carefully lower into the oil. Fry for about 1 ½ minutes. Lift out of the oil and place on the wire rack in the oven to drain and keep warm. Continue with the remaining squid. Sprinkle generously with the Tajin seasoning and serve with lime wedges.